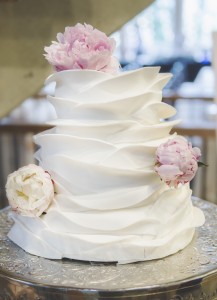 Congratulations on your engagement and thank you for your interest in Crumbs Cakery!
Your wedding day is a day you will remember forever, and so it has to be perfect. Creating the perfect wedding cake to complement a client's perfect day requires a great deal of artistry, technical proficiency and a true understanding of each client's needs. Therefore, we offer free wedding consultation to all of our Brides & Grooms. During your one hour consultation, we will discuss the cake of your dreams while you taste cake flavours of your choice. We are always more than happy to discuss your ideas through email or over the phone if that is more convenient for you.
Your wedding cake can be as glamorous, as exciting, or as stunning as your imagination allows. It can be creative, romantic, textured, modern and full of fashionable colours and flowers. The idea can be minimized to wedding cupcakes as well.
Frequently Asked Questions:
How much do your cakes cost?
It is impossible to offer a hard-and-fast price list, since each cake involves so many variables. We take into account the complexity of the design, the flavours chosen and the size of the cake desired/required and any other particulars that are important to the couple. Once we have an idea of what you're looking for, we can offer a you a quote. With that being said, if you have a budget that you need to stick to then please let us know before we start your quote so that we can assist in making you a cake that will match your budget.
When should I book my cake?
We do not like to rush clients into making hasty decisions and we encourage doing some research. However, we cannot guarantee prices and availability before a contract is signed. Some couples book twelve months to two years in advance for prime wedding season dates (July & August). Most couples book our services six months to a year before their event.
Do you offer tasting consultations?
We offer tasting consultations by appointment only. During our peak seasons, consults are only available on Tuesday & Wednesday afternoons. A tasting consult typically lasts about an hour and you can choose up to two flavours. Additional flavours are subject to a fee. A minimum wedding cake order of $200 is required to include a free wedding cake consultation & tasting. Tasting consultations for wedding orders under $200 are subject to a $25 fee.
Do you offer delivery?
Unfortunately, we are no longer able to offer delivery services. It will be up to you to arrange a pickup date and time for your cake.
Do you rent cake & cupcake stands?
Yes! We have a modest selection of cupcake and cake stands available. We charge a $35 rental fee plus refundable deposit.
Do you require a deposit?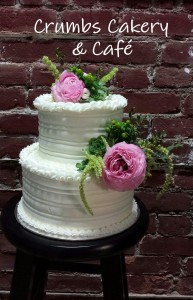 A 50% non-refundable retainer is required to book your date. Your date will NOT be saved until a retainer has been paid in full. Wedding orders under $200 are required to be paid in full and payment is non-refundable.
What is your cancellation policy?
If you cancel your order, your retainer will not be refunded.
When do you need final serving numbers?
Final numbers are required 3 weeks prior to the event date. Orders will not be downsized after this time.
When is the final balance due?
Payment in full is due 2 weeks prior to the delivery/event date.
What payment methods do you accept?
Payments can be made by cash, Visa/MasterCard/American Express or electronically by Email Money Transfer to crumbscakery@hotmail.ca.
Ready to inquire about your order?
Please email: crumbscakery@hotmail.ca or Call: 250-423-2006 and we can get started on your custom quote.
Save
Save